Bill of Materials or Product Structure
To produce a set of finished goods, we define a list of Raw materials (RM), Unit of measurements and Quantities required to produce one SET of Finished Goods (FG) are defined here.
We can have multiple levels of BOM. For example: Engine is a FG by itself, but it's a raw material when CAR is manufactured, as we need Engine to assembled in CAR. Means, WIP of one stage, becomes a RM for next stage or input for the next stage of production.
Bill of Materials Screen.
The field Details are as below.
BOM ID – That identifies a unique ID that's connected to a production of a FG with a set of RMs. We can have a Single FG with different SETS of RMs.
Select Finished goods ID and the Unit of measurement in which the production is reported
Enter Quantity – Here enter the total quantity that would be produced for which you can able to define the RMS
You can define the users and their access rights – Some time, we don't want to give an access of BOM to a set of people. So you can disable their access.
You can select the following check boxes based on the security that you want to have

Don't display price – Whether you want to show FG cost at production reporting?
Don't display Raw materials – Whether you want to show the list of Materials?
By-product – By product select it in down "To add By product click Here" (an incidental or secondary product made in the manufacture or synthesis of something else)

ABC – Activity based costing. AcTouch.com follows the ABC methodology where the activities costs are added to FG

Labour cost – You can define the labor cost to produce a set of FG.
Machinery cost – Machinecosts per set of FG.
Overhead costs – Overheads costs per set of FG
Note: Overhead expenses are all costs on the income statement except for direct labour, direct materials, and direct expenses. Overhead expenses include accounting fees, advertising, insurance, interest, legal fees, labor burden, rent, repairs, supplies, taxes, telephone bills, travel expenditures, and utilities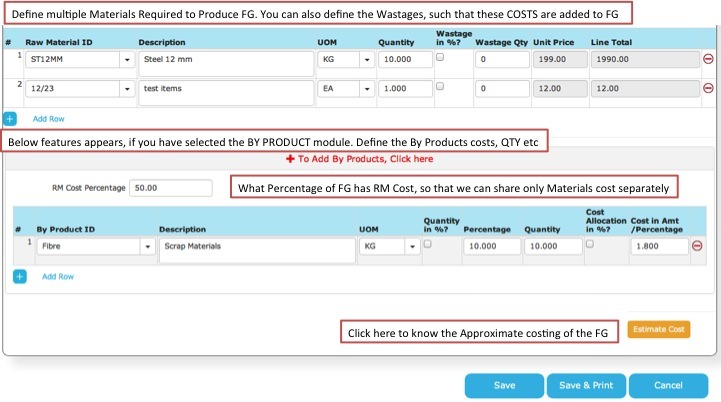 Now you can add the Raw materials, its Quantities etc. Note that Unit price would come from product master
Click on "Estimate cost" and it shows total amount of cost and net amount
If you have chosen a by product then following are important.

Enter Row material in percentage – This defines the RM costs that's part of FG costs
Enter a By product ID (Where the stocks are stored and costs are tracked)
Here you can define the Unit / Weight of the materials as part of %age of FG or in a Unit.
The same happens on cost too.
"Save" will save the details.