Receiving payment from the Customer
How to receive the payments from the customer against the Sales Order and Shipment?
Go to the Financials > Receivables and click on "Receive Now" in the section in the Receivable dashboard.
Menu looks as below.

Select the Customer ID from the drop down and it will show all the lis of not received/ partially received Sales Order and Shipment below.
You will see the list of all the OPEN Invoices against which the payment to be received by the Customer will be shown. You have an option to either to select all the Invoices or choose one to receive the payments. Here too, you can either receive FULL or PARTIAL payment receipts.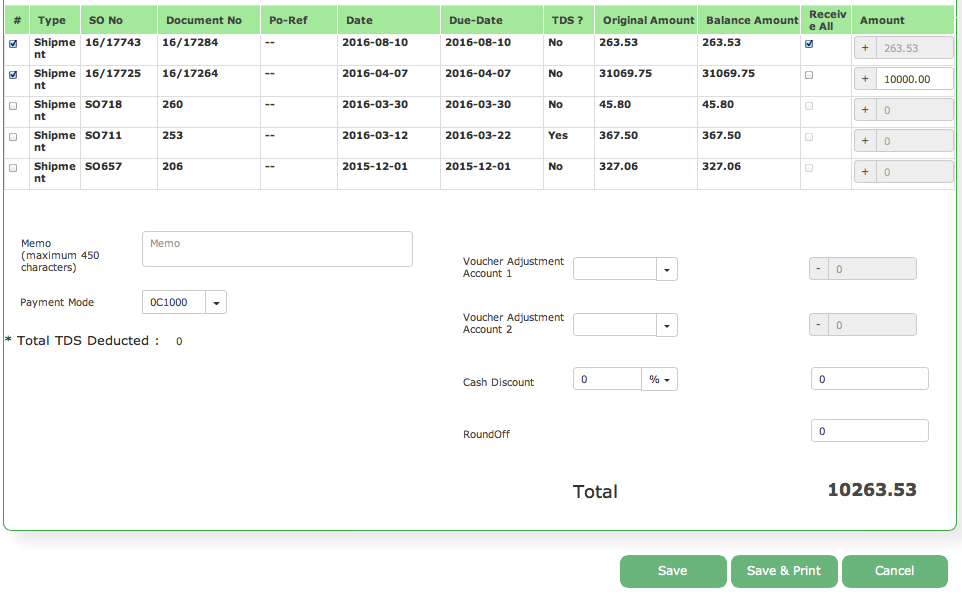 Now, how to receive the payment?
Click on checkbox below # to select the row
Click on Receive All checkbox to receive the full payment
To receive the part payment uncheck the checkbox Receive All and enter manually the amount
Select Payment Mode from the drop down. If it is bank select back from the dropdown. Enter cheque number and Click on Save. By default it is Cash. You can change it to "BANK" and enter cheque details.
Click on "SAVE" to complete the transaction