Artificial intelligence and Machine Learning
Today Artificial Intelligence and Machine Learning have changed the Business. For example Retails, eCommerce, Medical practitioners etc are seeing great result in adopting AI and ML. These tools are used to predict customer behaviour, his purchase patterns, what type of ads he wants to see etc.
So how the Business are impacted by Artificial Intelligence and Machine Learning?
Lets explore more now.
Before we get into the details of how technology innovations are changing the ERP and Business owner's needs, let's see the current problems that are faced by an SME Business Owner.
It is an open secret that ERP helps many organizations to streamline their Invoice processing, Production reporting with Inventory controls etc. ERP can extend your Business to your Sales persons, Customers, Vendors etc.
But many business owners are afraid to go for an ERP due to its high maintenance cost, Hardware and Server costs, it's License cost etc. A small SME can't afford to buy ERP software. Due to this reason Business Owner compromised himself with basic accounting software that helps to fulfil the Taxes and Compliance needs and rest is managed by Excel document.
What about the mid and large enterprises? Are they happy with their ERP and how it works? I have the following questions.
Is there any single company or Enterprises that uses 100% of their single ERP Product features? Answer to this question is very LESS as the large enterprises depends on multiple ERPs to meet their different business needs and manage Distributors etc.
How many business owners plan and forecast the expected cost of Hardware and Software in the next 3 years? Most of the Business owners don't even know that they have to upgrade their ERP Hardware as the new version of ERP is released. Their ERP vendor hides this information at the time of sales.
How big is the IT Team who promised to the senior management that they could generate any number of reports based on Management needs?
Is the above problem only for Mid and Large Enterprises? No, the same you can see in the Small and Medium Enterprises too.
How about SMEs?
They use multiple software like Accounting software and Inventory software. They use CRMs that's been helping them when they started business. The replacement looks interesting, but chances to replace them is low due to cost factors.
What is happening now? Who own customer success?
There are multiple factors.
In the last 5 years, the cost of Hardware, Network and Internet has reduced dramatically. Thanks to Amazon Web Services and Google Cloud to provide a cheap and secure Cloud Environment.
The SAP's or Oracle's of the world are struggling to sell their Old Software that is of mammoth size and huge for a SME or an enterprise that's focussing on what they need?
Who own Customer Success: Earlier days, a large ERP vendor is happy to sell the User Licenses and his partner would be happy to collect Implementation fees, customization fees etc. If Customer has issues with the Core ERP solutions, then there is no one to help them. Vendor will blame on ERP Vendor, and ERP Vendor will never respond, as he is not responsible for the implementation. In summary the project fails with lot of money spent and who owns "Customer Success"?
The new generation entrepreneurs or second-generation businesspersons don't want to sit at one place as they have realised that to do business they should meet people and do more sales.
So factors that are weighed to select an ERP are different from what it was earlier. Today every CEO thinks on how to reduce the cost of the ERP / Software, how to reduce the unnecessary expenses like Hardware, networking, IT Admins and teams etc.
This is where the new generation of tools are solving many Business Problems. Recent development and an easy access to new technology and integrate them with Old and new software makes a difference.
A new initiative of Digital transformation, Data security and ensuring to catch-up the large companies for the business, the Business Owners have decided to try ERP Software for their business.
So how the future of ERP is redefined? How the old ERP companies are reinventing themselves and changing their price plans.
Internet of things (IOT)
IOT helps to connect many manufacturing process and machines activities to ERP and store the data. As the production reporting happens, these data are stored directly in Cloud ERP. This is building interoperability between business process and machines etc. So back office data is synced with Stores and Shop floor data. In Real-time the shop floor or production data is fed into ERP and helps Stores person to send the demand request to Vendor based on shortage of items. A total integration based on the actionable parameters.
Artificial intelligence and Machine Learning
Many of us use Siri in iPhone to make calls, or do some other work. Amazon's Alexa and Google Assistant is another great example of AI and how it can be integrated with normal life of humans.
The same can be extended to Manufacturing industry with Shop floor / Quality is connected to the Production reporting with Stock updates. The data analysis could be immediate and helps senior management to take decisions on production, its repetitive issues and what caused the errors.
As the ERP understands and learns by its own data points, it leads to a situation that could prevent the future problems that could arise because of a Supplier, his materials and its grade, the Size of materials etc. could lead to decision making process.
Another interesting example is, based on the previous Production Data, Sales numbers, Finished goods costing, Intelligent ERP could arrive at cost of the production should be, if the Unit Sales price is decreased by USD 1 and how the product cost could be decided, what is the kind of target market stake we could achieve etc.
Technology is changing rapidly, but our old manufacturing process is not changed. So the new entrants can take benefits with technology.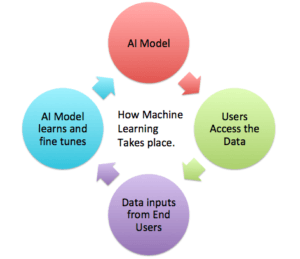 This is the power of AI connected to ERP and its cloud Data