What is ERP System?
ERP stands for "Enterprise Resource Planning". This means, this is a system thats supposed to address and take care of the entire Enterprises and its resource needs. So an ERP system consists of both Software and Hardware thats essential to run the solutions addressing the entire business needs. Typically an Enterprise means, we are talking about a Manufacturing units or a Large trading business.
An ERP System typically consists of Manufacturing, Accounting, Sales, Bills, Planning, Human Resources etc.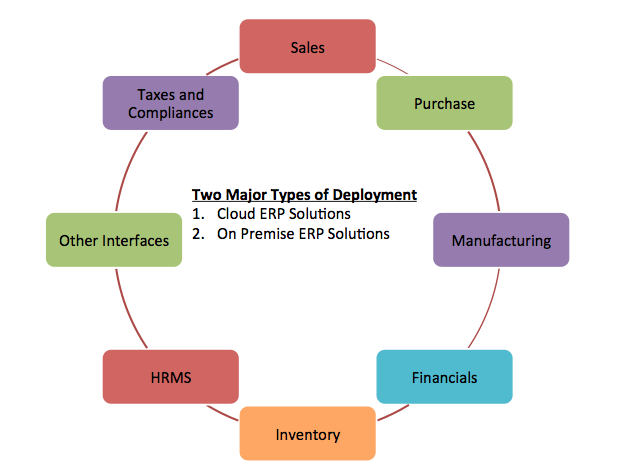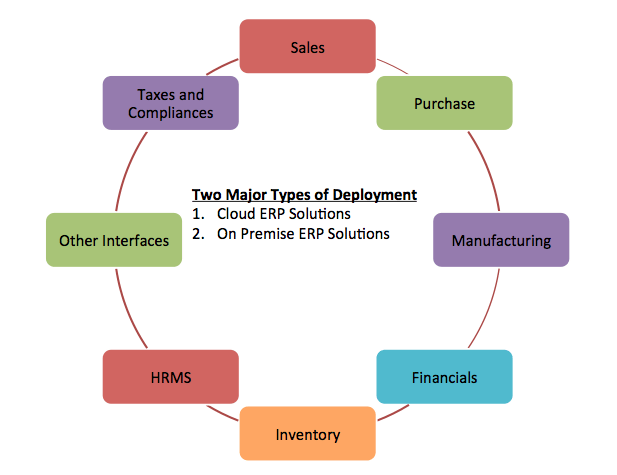 What's the Business Value of an ERP System?
Because the business operations are so interconnected and complex, it contains many business moving items, its essential to manage the Enterprise wide resources needs. Its always essential from business perspective to have a data integrity and accuracy from an "single source of truth" concept.
ERP system brings many business value of multiple stake holders in a company. Some of them have been mentioned here.
Consistent of data and accuracy. Collecting an organisation's transactional data that's shared across from multiple departments
It eliminate data duplication. Every units of the business will see the same data at any time.
Follow the Business process and workflows
Business compliance with approval systems
Improves Tax and Statutory compliance process including Traceability
Lower operational cost and increased accountability. Data preparation and report generation are so fast, it save huge amount of TIME and MONEY for business.
Improves Employees productivity
Reduced Risks and increased transparency
No more "Knowledge Pockets" and its moved into process based systems.

ERP Trends – Evolution from MRP to Cloud ERP Solutions
Moving from MRP to MRP II and now to ERP
Earlier business were using a bare minimum application that helped them to manage Materials planning and procurement. This system was called MRP. However as the business needs increased and manufacturing units wanted to manage more process, work orders, materials planning etc and the new application born is MRP II (Manufacturing Resource planning)
Later, many Software solutions begin adding new features like Finance, Human Resources etc and the Business needs changed to manage the Enterprise Wide needs.
This is the birth of ERP or Enterprise Resource planning.
Moving from On-Premise ERP to cloud ERP Solutions
On premise applications – An ERP System that's deployed in the company premise and on its servers. Many customers believe that its always good to keep the data and information near them and controlled by them. So they procure large servers, buy software and databases and setup the network for people to access the application. So they spend huge money on infrastructure. To run and maintain this ERP system, now they recruit people and pay them huge salary.
Cloud ERP system – An ERP system thats been hosted on a Cloud server and its made available to customer based on the demand. In this model, Small businesses don't need to maintain a server, keep worried about data backup etc.
In summary, cloud ERP system always helps business to start with less money and spend as and when its required.
Small Business should go with Cloud ERP system and focus on growing the business now
Future of ERP trends – Extended ERP system.
As the business demand increased, the stand alone ERP is not able to meet business needs. Now business owners needs new features like
Integration of eCommerce portals with ERP
He wants his vendors and customers to connect to his ERP to see their own bills and invoices.
Connect to Mobile Apps, so that Sales person takes orders in real time.
He wants to share his ERP with his Accountants and Auditors so that they are all updated real time with details.
Cloud ERP Solutions are next stage of evolution. Its better to be adopt it and get ready for the future.
Time to Adopt ERP System for your business survival
Many young business owners have decided to move to Cloud ERP systems as they are techno savvy and don't want to sit at office and do the business. The new business model has become mobile and its getting fragmented. Business collaboration is the new key to survive.
Do you know, how implementing a Cloud ERP Solution can save money for you? Check the article here