FREE GST SOFTWARE FOR SMALL BUSINESSES
Actouch has developed Free GST Software for small businesses. It is specially designed for the Indian marketplace with solution for recent GST changes. It has all attributes to calculate & print exquisite invoices to your customers. It's completely secured with featured & sophisticated encryption algorithms together with daily backup function. You can't download free gst software because it's web based, hence you can subsribe the free version.

Our MSMEs face these problems with GST Software?
Standalone Accounting Software
MSMEs are still using stand alone OLD software thats outdated and not in consistent with GST needs
Frequent changes in the GST Rules
GST is new for India. So its up and downs will be addressed during the course of time. Today there is no Clarity for anyone and how the new rules will be.
No proper Guidance on GST
New GST rules are stringent and it requires to follow the dates of returns properly. But there is no clarity and no proper guidances.
ACTouch.com offers Free GST Software and solves all your problems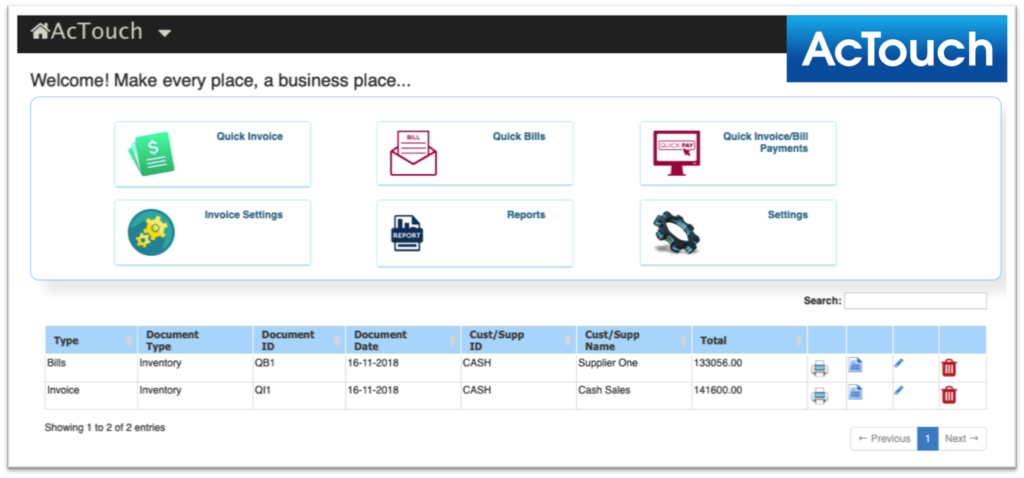 Make your Invoices
Prepare the Invoice as per the new rules, print and despatch your products in 2 Minutes.
Enter your Bills
Track Bills and materials receipt.
Track your payments and Receipts
Track the payments and receipts. Dont miss your Customer payments.
What you are waiting for now? Register and enjoy the freedom.