Manufacturing ERP Software: Transform your Business to Digital One & make Profits
Cloud-based Manufacturing ERP Software for Small and Large Business.
AcTouch.com's Manufacturing ERP Software has been designed for the Manufacturing Companies. We handle different types of manufacturing like Process Manufacturing, Discrete Manufacturing, Subcontracting and Jobwork etc. What is important, we are good at managing the Inventory Costing with Stocks across Stores and Sub contractors places. We are an expert on ABC (Activity Based Costing)
Changing Business scenarios. 
Today's business is more competitive than yesterday. Everyone uses new technology to reach and retain customers. Your business success is differentiated by having new technologies and by increased Customer Focus. Artificial Intelligence and Machine Learning is integrating Machines to learn by practice and increase productivity.
[lvca_services style="style2″ per_line="2″][lvca_service_item icon_family="linecons" title="Transform your business into Digital Age" icon_linecons="vc_li vc_li-like"]Business is changing rapidly. Yesterday's large business houses are struggling to remain in the same position as new technology companies with "Light Stocks" are replacing them. No one has monopoly on any verticals. Technology is helping business to reach to Customer and serve them 24×7 efficiently.
But, these transformation begins with you, Business Owners.
Say, "Yes" to change now.[/lvca_service_item][lvca_service_item icon_fontawesome="fa fa-signal" title="Connect your business to your eco-system to serve them better."]Simplify the Business process and documentation. Integrate your business across Customers and Vendors. Improve the Communication, transaction visibility and gain their Trust. Mobile Apps, Dealers Portals could do wonders for them.
Building and Creating an eco-system is the best way to grow your business. Connect them now.
[/lvca_service_item][/lvca_services]
Best Manufacturing ERP Software in India
Simplify your Work, Improve Process and Reduce Cost with ACTouch.com Manufacturing ERP Software
[lvca_services style="style2″ per_line="2″][lvca_service_item icon_fontawesome="fa fa-th-large" title="Optimise your Inventory Across multiple Units"]Optimise and Control your stocks across multiple Units or branches. No more missing of stocks and loosing money. Manage your stocks by location and by tracking the transformation of Raw Materials to Finished Goods at every units.[/lvca_service_item][lvca_service_item icon_fontawesome="fa fa-exclamation-triangle" title="I always run for shortage of items for production"]Please plan for the materials upfront with the help of MRP. This checks the demand and supply and arrives at the total stock required for a period.[/lvca_service_item][lvca_service_item icon_fontawesome="fa fa-leaf" title="I am not able to Load all my machines."]Ensuring to use the machine and its capability is always difficult tasks. Its essential to utilise the machines and have an idea of how much machine capacity is remaining with you to take new orders.[/lvca_service_item][lvca_service_item icon_fontawesome="fa fa-usd" title="Reduce the Wastage and Improve the Bottomline"]It is estimated that nearly 8 to 10% of procured materials will be wasted unless the Inventory management is strong. Now assume that you have only 10% profit margin in the product, your margin will be eaten by stock wastage. So buy an ERP to get an control on this.[/lvca_service_item][lvca_service_item icon_fontawesome="fa fa-cloud" title="Increase the transparency between Customer and Vendor"]As you work with Vendors and Customers. you are part of the eco-system that needs support from all the 3 entities. Earlier price margins are no more existing as the rates are publicly available and no more secret. So the best is to build trust by increasing transparency between your vendor and customer as this would help in long term.[/lvca_service_item][lvca_service_item icon_fontawesome="fa fa-sitemap" title="Increase Productivity and Efficiency "]Use Material Requirement Planning (MRP), Work orders to improve and measure the usage of raw materials and its churn. Improve your Employee productivity with simple and user friendly application, Work Order tracking etc. Happy employees increase the productivity and efficiency.[/lvca_service_item][/lvca_services]
Do you have these Problems similar to our Large Manufacturers?
Our Manufacturing ERP software would help you.
Multiple Bill of Materials / Product Structures.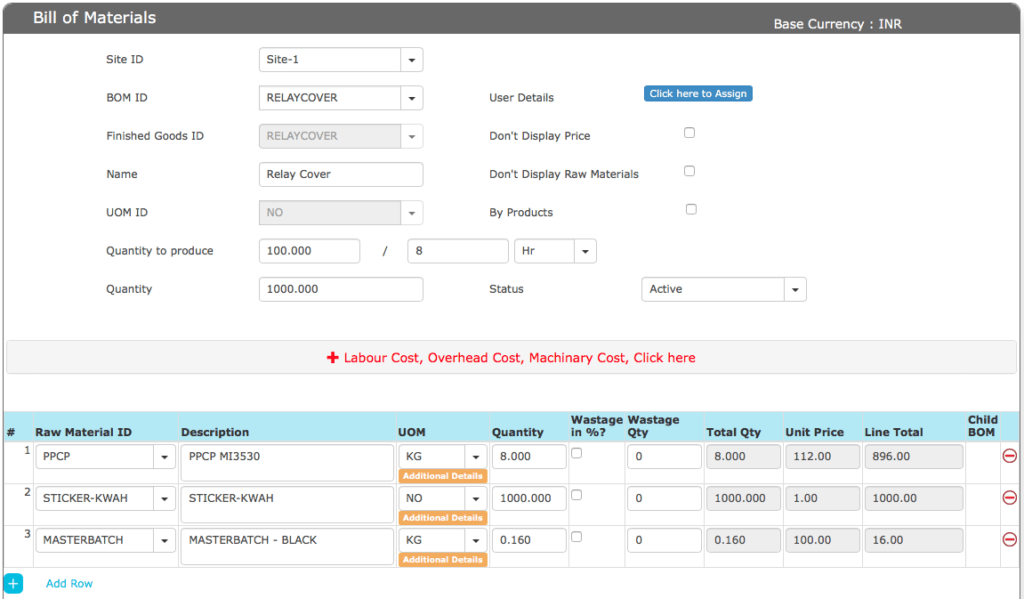 Bill of Materials
Bill of Materials (BOM) is modified at the time of transactions and ensure that no one changes it. For the same item, you can have  multiple BOMs and manage the productions. You can
Define the Labor, Burden and other costs
Define the By-products, its costing etc
Get the products estimated costs.
Control the items that goes into Finished Goods
I do not know my Finished Goods Cost. How can I get my Cost details Automatically?
Activity Based Costing for Finished Goods.
It is interesting to note that many Customers doesn't know their cost of the Finished Goods. Due to this they don't know the rate at which they want to sell the items. Traditionally, AcTouch.com follows the Activity Based Costing (ABC) approach and it helps to arrive at the minute cost details added to Finished Goods.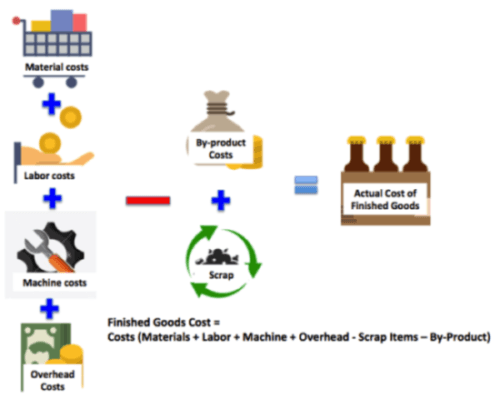 What is the status of my Production Delivery?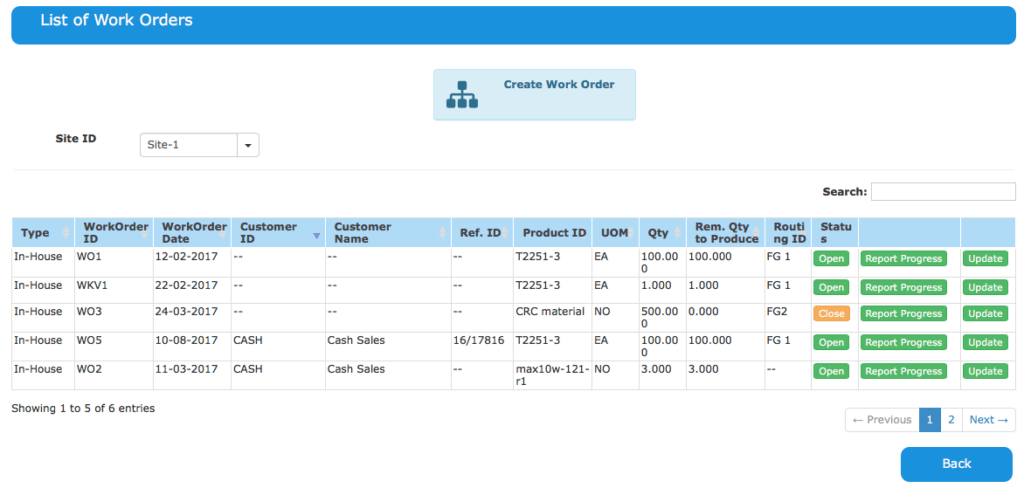 Work Order and its process
AcTouch.com handles the work orders with its Routing process, Different Work Centres, Tools used there, Ability to generate stock reports at that work centres. You don't need to go to multiple pages to reports Work Order and Finished Goods.
All at One PLACE.
Our Manufacturing ERP Software would help you to WIN your Competition.
[lvca_posts_carousel posts_query="size:10|order_by:date|post_type:post|categories:171″ display_title="true" arrows="true" dots="true" autoplay="true" autoplay_speed="5000″ animation_speed="500″ pause_on_hover="true" display_columns="3″ scroll_columns="3″ gutter="10″ tablet_display_columns="2″ tablet_scroll_columns="2″ tablet_gutter="10″ tablet_width="800″ mobile_display_columns="1″ mobile_scroll_columns="1″ mobile_gutter="10″ mobile_width="480″]
Manufacturing ERP Software | ERP for Manufacturing Industry
Self help videos to learn fast and manage your operations
Find out why 5000+ Business owners love AcTouch.com, a Manufacturing ERP Software?
OEM Manufacturer
"AcTouch.com helped us to save 50% of our efforts in managing Inventory, sending and receiving etc. Now we started our second company due to these time savings. I am happy that I did the right choice"
Manjunath Naik. Director, IM SafteySolutions.
Trader and Distributor
"This is the best team and the Software support I've received. Twice I needed help – and both times it came quickly, in a very professional and easy to understand way. Today our three businesses are using AcTouch.com"
Mukund B.S. CEO, ReNewIT, Bangalore
Calibration Vendor
"AcTouch Team developed our Calibration process on Cloud with the necessary customisation. They helped us to move into Digitisation of our manual process. For this digitisation, we received a prestigious award from GE Healthcare".
Vijay Kumar, Director, TransCal Bangalore
ACT NOW to streamline your Manufacturing process to increase Productivity and Efficiency
Production Management
Monitor Work Orders / Jobwork orders throughout the lifecycle of Production including managing Work Center, Routing, Production Reporting etc
Materials Movement
Have a control on the materials, information, and finances as they move in a process from Purchase to Sales.
Planning (MRP)
Run MRP to know the materials that's required based on Demand and ensure that these are available Just in Time.
Inventory Management
Manage and Track the Raw Materials, Semi finished or Finished goods at different locations within a facility or within many locations of Sub contractors too
Procurement
Track materials demands from Purchase Indents to Materials receipt from vendors, so that production demands and timelines are met
Manage Subcontractors
Manage your multiple Subcontract vendors and materials issued and received from them. Track the materials and end to end cost, Payment etc.
Free Format Download section
For more details call us at +91 80 2662 9236 or email at Sales@actouch.com