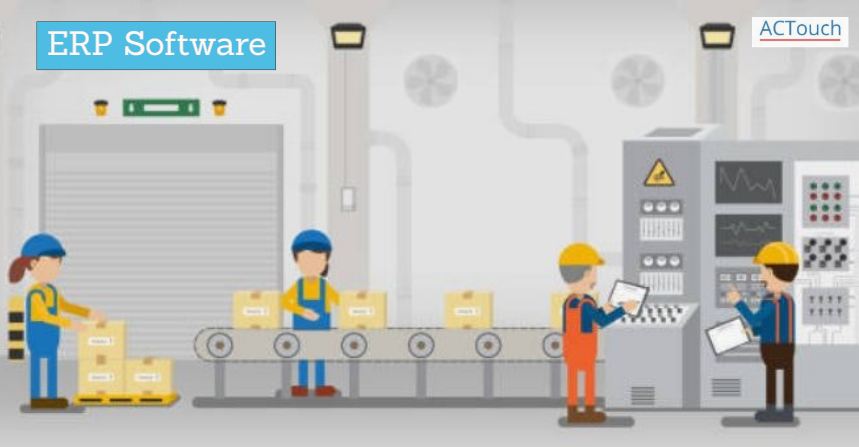 Today right information is available to people and there is no restriction to access them. This lead to change in the belief system and every business owner wants to improve their business process by reducing the cost and increasing the efficiency. One of the way to do to is going for a cloud ERP for small business as it would reduce the cost of ownership, cheap license costs, better and easy to use services and be part of the ecosystem. One of the easy way to follow internationally accepted practice is to implement a Best Cloud ERP Software that comes with best of the practices, Controls & measures and Easy of Use.
Best ERP for Small Business in India- ACTouch Cloud ERP
Implementation of a good ERP software will help many mid sized companies to optimise their business process, improve entire vendor and supply chain management, increase transparency across the departments and provide more clarity. Introduction of ERP in an organisation helps it move up the value chain in terms of market credibility and building the confidence of its stakeholders. The current business challenges including lack of resources forced many SMEs to look for a Cloud ERP Software.
Cloud ERP Software: Which is the best ERP Software for Small Business?
SMEs use the following methods to avoid the need of an ERP Software.
Running an accounting software as ERP even though that Accounting software is age old.
Doing the work on an Excel fearing of loosing data to external person or caught by Govt.
Customise the existing accounting software with more modules and spend more money.
Develop a homegrown ERP with a feeling that data is secure with them.
Question: Who Runs your business?

To please a few people / Accountants, many business owners stick to age old accounting system and loose large business opportunities. They tie themselves to old process and problems.
Many SME owners do not realise the business losses due to lost business opportunity due to lack of right information, not having cost sheets. Spending huge amount of non-productive time, not able to meet market demands and customer needs.
Cloud ERP Software: Why and How Best ERP for Small Business will help me?
Do you have any of these questions & do you get answers for them?
Many Business Owners do not get an answer to these questions as their software doesn't help. Most of the accounting software's are designed for Compliance and Taxes and not for business growth. They always threaten you by penalties or loosing money etc. 1. What is the cost of my product and finished goods. 2. Where is my stock and how many are with my subcontractors? 3. How much material came from my Customer and where they are? 4. What is my production today and how much scrap? 5. How much tax, I have to pay this month? We have noted down few answers based on the customer feedbacks. Our interaction with more than 1200 customers have helped us to consolidate them.
Integrate many business functions leading to transparency, access to real time information.
Following an industry standard best practice. Some of best features are added into product and its easy to implement and follow
Align business objectives with technology solutions to improve. Reduce the resource usage and improve productivity
Another key reason for the choice of an ERP against a development getting a quicker return on investment with international ERP software
Achieve better organizations resource and asset utilization. Improve utilization of human capital and assets
Obtain right Information at right time for effective decision making
Improve financial management and compliance's.
Some of the best ERP Implementation methodology is adopted by AcTouch.com. Click here to read more.
ERP Software Companies in Bangalore, India
Cloud ERP Software: Comparison of ERP Software
There are many ERP software in the market. As a part of our sales process, we do review and compare us with other softwares. Here we are providing a list of Cloud ERP Software. (We are not mentioning any Accounting or Partial softwares)
SAP B1 (Both available on Cloud and On-Premise model)
TCS iON
NetSuite
Oracle Apps
AcTouch.com, a 100% cloud ERP with mobile Apps.
Infor
Following are the list of functionalities that these ERP contains. 
Basic Modules of ERP System.
Sales and Invoices
Purchase and Goods Receipts
Inventory Control
Payments
Receipts
Manufacturing
General Ledgers
Financial control and reports
GST and other Taxes
"Good to have" Modules – ERP Business Modules. We identified the below modules as a good to have as these may not be mandatory for 80% of business owners.
Quality
Warranty Modules
HRMS or Payroll
Sales Quotation
CRM functionalities
Plant Maintenance
For more details, click here.
Recently we compared AcTouch.com against other Cloud ERPs as few customer demanded. Please check here
Cloud ERP Software: What are the problems in Best ERP Software Selection and implementation?
Many Business owners do not understand the complexity of their business or bringing them into Cloud ERP Solutions. Typically they underestimate the efforts needed and what to do etc. They need a constant guidance and hand holding during this process. The summary of problems faced by many Business Owners are as below.
Which Best ERP Software to select?
Who is the right partner to implement ERP?
What modules to implement and how to begin?
What is the time frame to implement and how many days required?
Do my employees have the capability to understand, implement and use the application?
Whats the implementation process to follow, how to measure the success etc
Many of these questions will be resolved as the implementation begins. However its important that we need to identify those risks and should've a mitigation plans. For more details on how to do an implementation and check list, please click here
Cloud ERP Software Examples and free downloads
Now a days, many ERP vendors allow their product to be installed, configured and implemented before buying them. So the sales process has been changed and future customers are involved in the decision making process. This gives confidence and also helps vendor to manage customer expectations. Visit the respective web portal and download them or go to AcTouch.com, register "Freely" and try the Application. Please find the list as below.
AcTouch – https://www.AcTouch.com/
SAP – https://www.SAP.com/
Infor – https://www.infor.com/
NetSuite – http://www.netsuite.com/portal/home.shtml
MS Dynamics – https://dynamics.microsoft.com/en-us/
ERP Next – free cloud ERP – https://www.erpnext.com/
Many more are there. Disclaimer: Anything to be updated or to be added / any comments and feedbacks to sales@actouch.com
ERP Solution Providers in Bangalore, India | ACTouch Cloud ERP
Fix your product demo at your convenience.


More information, click here
Call us at +91 90360 12094 or email us at 

sales@actouch.com

 for more details.