We solved our Customers problems listed below.
Do not listen to anyone. You choose your right Cloud ERP Systems
Do you know your Finished Goods items cost? We will help you 100%
Do you have any questions on Indian GST taxes and Registration?
We provide all the answers for your questions
I want ERP data to Integrate with Tally Software. My CA / Auditor wants Sales, Purchase details in Tally Formats only
You have 2 major reasons to use AcTouch.com along with
Tally Software
.
I do Jobwork & Subcontracting Manufacturing work. What documents I need to keep?
I have a Manufacturing Unit and how your ERP can help me?
We handle the end to end manufacturing process like
In-house Production and Planning (MRP), BOM, Work Orders, Routings, Subcontracting, Jobwork
etc.
Why Should I do Book Keeping and TCS calculation?
I don't know what is happening in my other Units or Branches?
Integrate your multiple Factories, Sales units and branches into one Cloud ERP Solutions. Now you control your integrated business like an MNC Business.
I want to integrate my ERP with my Website, Mobile Apps. How can I do?
Now you can upload data from Excel, POS Transactions & Invoices, eCommerce portals into AcTouch.com, a Cloud ERP Solutions. The transaction data can be posted to your Favourite Accounting software like Xero, QuickBooks, Tally Software etc.
Find out our Customers success stories with AcTouch.com, Cloud ERP Software
OEM Manufacturer
"AcTouch.com, cloud ERP Software helped us to save 50% of our efforts in managing Inventory, Jobwork etc. Now we started our second company due to these time savings. I am happy that I did the right choice"
Manjunath Naik. Director, IM SafteySolutions.
Trader and Distributor
"This is the best team and the Software support I've received. Twice I needed help – and both times it came quickly, in a very professional and easy to understand way. Today our three businesses are using AcTouch.com"
Mukund B.S. CEO, ReNewIT, Bangalore
Calibration Vendor
"AcTouch Team developed our Calibration process on Cloud with the necessary customisation. They helped us to move into Digitisation of our manual process. For this digitisation, we received a prestigious award from GE Healthcare".
Vijay Kumar, Director, TransCal Bangalore
Case study 1 – Managing Dealer Network
How a large manufacture found benefits with AcTouch.com along with MobileApps for his dealers? Click here to read.
Case study 2: Manage Production & Subcontracting
How Casting and Forged components manufacture found benefits with AcTouch.com? Click here to Read
Case study 3: Fasteners Trading Business
How Fasteners Manufacture and Trader managed his Inventory and reduced costs with AcTouch.com? Click here to Read
Now you integrate your Sales, Inventory, Accounting & Production with AcTouch.com, Cloud ERP Systems
AcTouch.com, a multi channels Cloud ERP Systems. 

We give you a winning Edge over your Competition
List of our Customer Segments. Do you find yours?
Call us now at +91 90360 12094
| Industry Vertical | Business Segments | Industry Vertical | Business Segments |
| --- | --- | --- | --- |
| Automotive | Automobile Parts - U-Bolt, Fasteners, Heavy Duty Vehicle Parts. | High Tech | Abrasives, Tools manufacturers |
| | 2 Wheelers, 4 Wheeler Parts | | Batteries and Power Supplies |
| | Tractor & Agricultural Parts | | LED & Industrial Lightings |
| | | | |
| Industrial Segments | OEMs - Heavy Machines for Industries | Food & Beverage | Distilleries |
| | OEMs - Cranes and Hoisting Manufacturers | | Food & Online Grocery sellers |
| | OEMs - Large Rice shellers, Garden Tools | | Packaging Industries |
| | Job Work and Subcontracting | | Organic Product Sellers- Sources directly from Farmers |
| | Injection Moulding, Tools and Dies manufacturers | | |
| | Metal Press Components | Startups & eCommerce | Kids Education |
| | Hand Tools, Heavy & Small Forged Components manufacturers | | Women health & environment issues |
| | Switch Controls and Transformers | | NGOs and Startups |
| | Cold Extrusion Components | | |
| | Plastic and PVC Pipes Manufactueres | Others | Calibration Testing & Certification |
| | Medical Equipments & Instruments | | Sports Equipment & Accessories |
| | | | |
| Consumer Products | Switches Manufacturers | Chemical Industries | Industrial chemical products |
| | Consumer Electronics | | Household Cleaning products |
| | Water and Air Purifiers | | |
Cloud ERP Systems: Online 2 Offline (O2O) Sales.
How to sell on Amazon.com?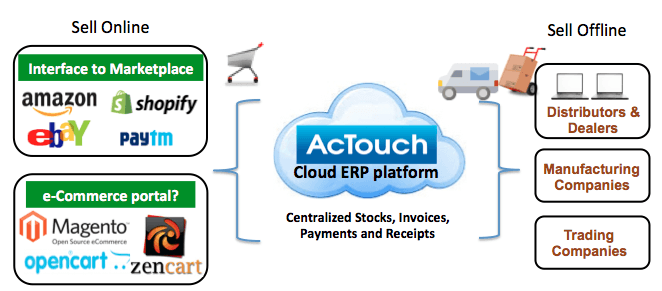 in 2018, Amazon bought Whole Foods business and shown inclination to O2O business Model even though Amazon is worlds no.1 eCommerce business. Alibaba is also building its tools to help Traders to connect to their Offline Customers to the Online Customers.
This means, the future business is not just e-Commerce Sales alone. It means, for Traders and Manufacturers have to change themselves such that they can sell both in ONLINE and OFFLINE mode.
eCommerce + Offline Store Sales = Future Business Model