Do not trust everyone, but do you face these problems?
You choose your right Cloud ERP solutions
I don't know where is my Stock and how much?
Identify your fast and slow moving items, track your Product costing, Manage your inventory and control the costs.
I have problems with Tax and Compliance issues
No more missing of any Invoices and Bills while submitting Tax Returns. You can do your returns now.
I dont know my profit margins. I have to wait for my Accountant to tell me.
Who runs the business for you? Now see the cashflow, Profit and Loss by yourself. You are the BOSS for your Business.
I am loosing my business, as I frequently miss my Customer delivery deadlines.
We have built tools to manage Production, PPC, Subcontracting, Jobwork operations.
I don't know what is happening in my other Units or Branches?
Integrate your multiple Factories, Sales units and branches into one Cloud ERP Solutions. Now you control your integrated business like an MNC Business.
My Accounting software is not helping me to make a decision
Let your Accountant or Auditor run their current software. We have integration to push Invoice & Bills for him to complete his work.
I don't know what are my Sales persons doing on Field? I am not getting new business
Integrate your business across Sales persons, Customers and Vendors. Improve the visibility & gain Trust. Mobile Apps, Dealers Portals could do wonders.
My employees leave my company very quickly and don't know what to do?
Simple process & controls will improve your Employees productivity, trust and their commitment to Organisation.
Now integrate your Inventory, Accounting and Production activities into single Cloud ERP Software
Business Verticals that our Cloud ERP Solutions support
Integrate AcTouch.com with your favourite Tools and Software
Now you can upload the data from Excel, POS Transactions & Invoices, Interfaced to eCommerce and your own Portal into AcTouch.com, a Cloud ERP Solutions. The transaction data like Invoice and Bills with Inventory details can be posted to accounting software like QuickBooks online, Tally Software etc. No more manual data entry across multiple departments.
Your happy TEAM = Business team and Accounting & Auditing teams are working together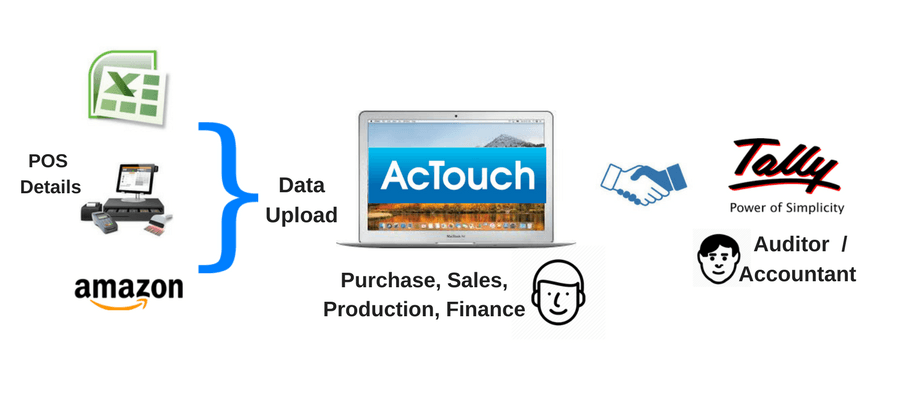 AcTouch.com, Cloud ERP Solutions gives you the true multi channel solution on any device
Transform your business into Digital Age and make profit
Today's business is more competitive than yesterday. Everyone uses new technology to reach and retain customers. Your business success is differentiated by having new technologies and by increased Customer Focus.
This opens a question, are you ready for the change?
Transform your business into Digital Age
Business is changing rapidly. Yesterday's large business houses are struggling to remain in the same position as new technology companies with "Light Stocks" are replacing them. No one has monopoly on any verticals. Technology is helping business to reach to Customer and serve them 24×7 efficiently. But, these transformation begins with you, Business Owners. Say, "Yes" to change now.
Connect your business to your eco-system to serve them better.
Simplify the Business process and documentation. Integrate your business across Customers and Vendors. Improve the Communication, transaction visibility and gain their Trust. Mobile Apps, Dealers Portals could do wonders for them. Building and Creating an eco-system is the best way to grow your business. Connect them now.
How our Customers found success wth AcTouch.com?
OEM Manufacturer
"AcTouch.com, cloud ERP Solution helped us to save 50% of our efforts in managing Inventory, Jobwork etc. Now we started our second company due to these time savings. I am happy that I did the right choice"
Manjunath Naik. Director, IM SafteySolutions.
Trader and Distributor
"This is the best team and the Software support I've received. Twice I needed help – and both times it came quickly, in a very professional and easy to understand way. Today our three businesses are using AcTouch.com"
Mukund B.S. CEO, ReNewIT, Bangalore
Calibration Vendor
"AcTouch Team developed our Calibration process on Cloud with the necessary customisation. They helped us to move into Digitisation of our manual process. For this digitisation, we received a prestigious award from GE Healthcare".
Vijay Kumar, Director, TransCal Bangalore