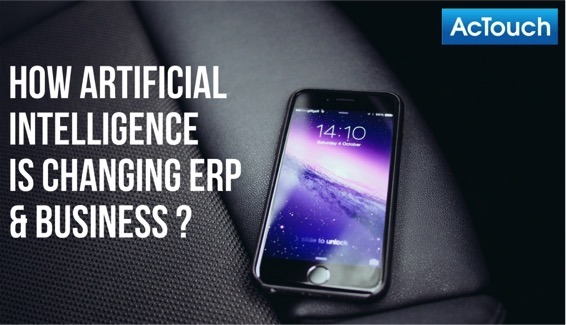 Future of ERP: Artificial Intelligence
Artificial Intelligence[AI] allows ERP vendors to boost ERP systems with natural-language interfaces and machine learning. The Artificial Intelligence or AI in ERP systems provides data insights allowing organizations to improve their operational efficiency. A good example of an Artificial Intelligence pushed ERP includes number of micro services. Nowadays numerous Software development companies used to introduce number of AI-based tools such as digital assistants, advanced access and financial controls, and smart supply management.
If you take any typical business that does manufacture a product and does sales will have the following modules.
Sales and Invoices
Purchase
Inventory controls
Payment and Receipts
Manufacturing
Sales Quotes
Quality
HRMS
Many of the above business modules are designed to collect and store the transaction data. But not designed to analyse the data and take a decisions. Business owners are happy to get these data into one place with a decent process to acquire the data. This is where Enterprise Resource Planning (ERP) became a handy tool for SMEs to manage the transactions so that they can refer anytime.
In summary many ERPs are not designed for the Future Analysis or forward planning kind of scenarios. For that to happen you need buy additional expensive software with additional skillsets.
Automation Progression from Inventory Software to ERP
Before ERP word was coined, it was MRP (Material requirement planning) and after that we had MRP2 (manufacturing resource planning). Post this, we have seen ERP (enterprise resource planning) products that's designed to address all the Business aspects with an integration to HRMS, Warranty etc. If you read the history of MRP/MRP2/ERP that started from 1970 and in the last 40 years, what you see is the standard product that's been added with more features and functionalities. The basic nature of ERP has never changed and its always is a transactional oriented system and nothing else.
But growing competition, struggle for the Manufactures to make their Distributor and customers happy is leading them build an ecosystem where everyone is connected.
So a typical ERP software has been used for back office operations like Sales, manufacturing, Accounting, inventory control etc. Focus here is to make sure that people do their jobs and bosses get their reports. ERP software is deployed either as an on premise or cloud based software based on the business needs.
A lot of tools been developed that helps to create data analysis, business intelligence etc. But these have become too complex and the software is expensive. What is interesting is, many of these are developed based on what customer wanted. But these are not focused towards how to make the Business Owner's life easy. These solutions are so complex, it requires allocating a person to try, see and build the reports or solutions.
What's changing the total ERP market is Mobile and its powerful system.
Today mobile with 2GB RAM and 100GB Hard disk are quite common. Instead of PC or Laptop the power has been shifted to Mobile. Today's business people love to use many Apps including WhatsApp, Oyo, Foodpanda etc. and they are comfortable with this.
As part of the future ERP analysis, we spoke to few customers, prospects and ERP Practitioners. Feedback is as follows (Business owners between the age range of 25 to 45 years)
Time is scarce. Next generation customers want to have the work FAST and don't have time.
Business owners are on the move for business and don't want to be at office all the time to monitor what's happening?
Looking for an ERP Software on Mobile where they can check the invoice, stock details and payment details.
They want to connect their Customers, distributors and vendors to their ERP. For this the Cloud Deployment is the best
Their Sales channels have been changed. Now they want to sell over Online, marketplaces, Brick and Mortar, Retail, Wholesale etc.
Today's Business Owner's questions are much different from yesterday's customers. Earlier customer focus was to survive and they need the data to decide. They were looking more towards Transactions and meeting compliance etc. Like having an ISO certificate, the ERP become an assurance to Quality work and process. As these objectives are achieved, now they want to go to next layers.
Artificial Intelligence will Change Decision-Making process for Businesses.
But today's customers have global plan, they want everything to happen quickly and the information should be at finger tips. They are independent and work 24×7.
Based on the indications that we see in the market today, we foresee that in 2 years current ERP will be changed into different format.
Customer will have the Mobile apps and will give a "VOICE Command" to create an Order
Customer will ask ERP Apps "what's the current stock of iPhone 6". ERP will show the results.
Vendor will send the SMS based orders to Customer mobile APPs and the order is accepted.
If the stock is available, Application will do the shipment based on Customer and his payment history. This message will go to Despatch and material is shipped.
Artificial intelligence is transforming ERP solutions.
Time to move to Artificial Intelligence with Voice based apps with ERPs.