Best ERP Software Selection Criteria and Vendor Checklist
Today there are 100's of ERP systems in the Market and everyone claims they are the best. So the question comes is how we are selecting ERP Systems?, About the process of ERP Vendor Selection and How we choose the right one for our business?  Because selecting an ERP Systems requires huge amount of work, analysis and plan. Because Enterprise resource Planning (ERP) helps business to streamline its process, build control and measures. So it's a valuable tool for the success of business.
Many ERP (Enterprise resource planning) solutions helps to streamline Purchase, Sales, Payments and Receipts. But some advanced Cloud ERPs like AcTouch.com, SAP, Oracle Apps etc have the Planning, Manufacturing, Supply chain management etc. There are few software search tools have listed few ERP Software solution. But what is important is do we have a checklist to follow? There are many parameters to check before you finalise the ERP solution for your company. Since deploying an ERP is a time consumed and expensive, its better to be careful rather than repent later.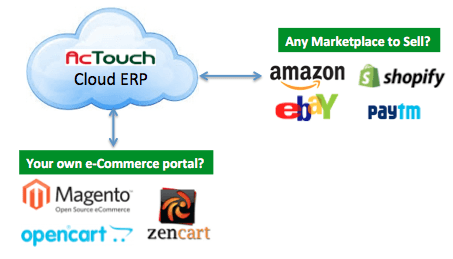 Selecting the Right ERP – Selecting ERP systems process.
Based on our experience and what we learnt from our customers, we are listing the following. ERP Vendor Selection Checklist.
Step 1 – Prepare yourself.
Do a list of the features that you need based on your business practices and needs
Find those "Must haves" and "Good to have" features
Identify who is leading the vendor selection process in your organization
Identify the stakeholders who are the decision makers in the ERP Software selection process. Spend time to review the document and get an approval from senior management.
Are you going to send an RFP? If so, prepare the questions and get it approved by management
Identify the potential ERP solutions that you want to evaluate.
Do a basic research on these ERP solution, as the selection process would be faster. This also saves time during vendor comparison.
Speak to your vendors, customers to know the ERPs in the market and how its support, ability to customize and deployment etc.
Create Sales Order and Sales Invoice with ACTouch Cloud ERP.
Selecting ERP Systems: Who owns customer success?
This is an important factor. Many large ERPs like SAP, Oracle Apps etc sell the license to customers, while their partners do the implementation, support etc at a cost. What is interesting here is WHO OWN customer success? Is it the author of ERP or Partner. We have heard of many cases where after years of struggling with implementation customer dropped the ERP as their vendor couldn't complete the implementation.
Selecting ERP Systems: What is Vendor capability and financial status
This is another important factor, as you need to know how the vendor will survive and support you for a long time.
How much vendor knows your business verticals?
How long the company is in survival
Did they implement ERP at similar customers and of size, so that learning curve is reduced at your implementation?
What is the future plans and direction of vendor and its flagship product.
Are they technology savvy to make new improvements?
Selecting ERP Systems
: What type of ERP Software you need? What's the true cost of your ERP?
This is an important factor as many business budgets are restricted and its essential for the selection team to work within the same boundaries.
What type of ERP Systems you need? Do you need Local server based or Cloud Based?
Any restriction of application like ERP Systems to be made available only at Local machine?
Any existing in-house IT team to manage application, it's back-up and maintenance done? Who is doing it now?
What is the true cost of an ERP Systems like License Costs, Hardware and networking costs, Implementation costs, customisation costs, new software license costs etc.
Identify any hidden costs as this could be a surprise for you.
Selecting ERP Systems: How is the system functionality and ease of use?
Is the new features addresses the current challenges faced by Company or not?
How its easy to use the application?
Does it require an extensive training or can I enable my employee with in an hour?
Is the vendor ready to customize the workflows or not?
Do an actual business lifecycle on ERP and seek answers for all. Complete the product demo and do a proof of concept.
Involve all the stakeholders
Document everything question and replies as this could help you to solve the problems at later stages.
ERP  Vendor Selection Criteria.
What type of training and support does vendor provide?
Additional training is the one of the major hidden costs, as many vendors don't explain it properly.
Is the training delivery happens at onsite, vendor location or at pre-defined places
How the training would be delivered? Is it contains hands-on session or classroom sessions etc.
Is the support 24x7x365 and how it is delivered either by phone, email or chat etc?
Even after this preparation and following a stringent ERP Software selection process, many Businesses still fail to implement the same on time. Most of the implementation fail as people don't follow an implementation process. We, at AcTouch.com follow a stringent implementation process as it helps us to ensure customer success and enables us to predict to risks and the probable mitigation to follow.
Refer to the Implementation Process document here.