Dhandha – Invoicing and Billing App is a India's FIRST Cloud Based Multi Lingual Mobile App for Small and Medium Enterprises [SME] .GST Ready Invoicing App with GST Invoicing, Billing with Multi Language support & Tally Interface. The data is stored in Amazon Cloud with high level security.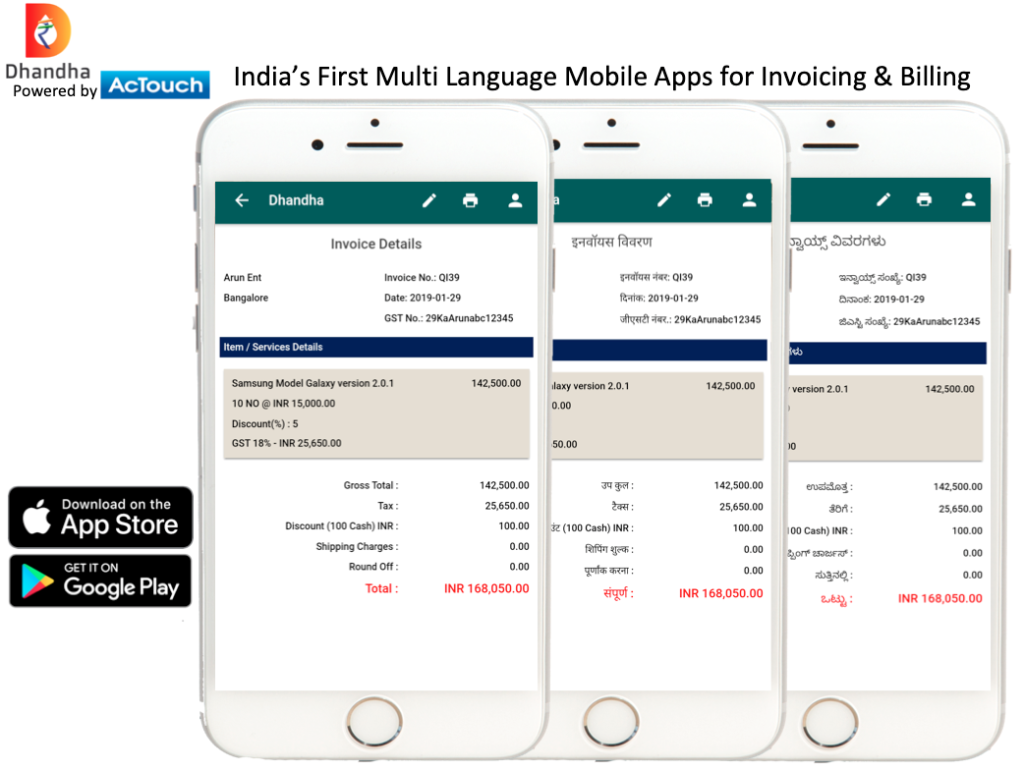 Invoicing and Billing App – Dhandha Mobile App
The problem statement — "How to help Book keepers to complete their work soon"
During our sales process, we frequently meet Book Keepers and listen to their concerns
1. On average they have 200 to 1000 customers who are not paying them good money. As the bookkeepers increases the revenue per customers drops.
2. Most of these customers are not tech savvies and can't afford a PC or Software to enter the data.
3. 90% of them will submit their invoices and bills by 25thof Month as these needs to be filed before end of the month.
4. A bookkeeper with 200 customers has this problem and this multiplies as the customer increases.
a. On average a Business person submits 250 invoices and Bills every month
b. The total number of these physical documents to be verified and entered in their Computer Software is around 5000 documents.
c. Many times, the bills or invoices are not visible, applied wrong tax amount; wrong manual calculation & they are not complete.
In summary, he has to have nearly 10 employees who would be working round the clock for the last 5 days of the month to complete these entries and file the returns. This also means, most of these employees are free for the first 3 weeks of the month.
How can we reduce this enigma and problem?
We spoke to CA / Auditor's and asked them a basic question.
"Sir, you always recommend "popular software" for your customers and please tell us, what %age of your customer use this "popular software"?"
Answer we received is "ZERO". Yes its "ZERO". Because most of their customers use this "popular software" to help CA / Auditor to complete their work and is used to make Invoice and Bills only. Because it doesn't have many functionality that are looked by Business.
Dhandha Mobile App – Free Invoicing and Billing App arrived, a 100% cloud based MobileApps and its stores its data on cloud.
We wanted to address the below challenges and help Business and Book Keepers
1. A FREE Software that helps to generate Invoices, Bills, track Payments and Receipts. Generate Tax Details and find how much to pay?
2. These data can be downloaded into an Excel Format.
3. This excel is emailed to Book Keepers so that they can upload these data into "popular software" and complete the work.
Download – Dhandha Free Invoicing & Billing App