ERP modules and Functions – Purchase and Sales Order Management,Production Management, Financial Management, Warranty Module, Maker & Checker and E Commerce interface
AcTouch.com is a cloud ERP System that has been used by customers from more than 20 countries. The application has been tested for market fitment and now has many customers and different business verticals are using it. Here, we are giving the list of ERP functionality that's been used in AcTouch.com are Purchase and Sales Order Management,Production Management, Financial Management, Warranty Module, Maker & Checker and Ecommerce interface.
AcTouch.com was developed from the guidance from Manufacturing and Trading communities. We had list of end users, who are frequently visited and reviewed the features and helped our SMEs and Developers. We started as an Accounting Software and soon customers started asking many features. The problems faced by them is converted to be part of solution with a focus to simplify the life of end users. Many functionalities that we built are based on end users and real time business cases.
ERP Functionality: General Features of ERP Systems
Cloud ERP System is hosted on a central server that helps to manage the multi business, multi users and multi functionality business needs. Few salient features of our Cloud ERP Systems are as below.
We support Industries like Manufacturing (Discrete and Process Manufacturing), Retail (not a super markets), Wholesale and Distribution, IT services, Media and publishing, Financial services, Consulting, Energy etc.
We have few customers who integrated the ERP to Amazon Seller Central features.
We inform customers where we don't fit. List is as below (Some are due to the need of continuous internet connections and not from lack of business functionalities)

Hospitals
Restaurants and Hotels
Transport and Travel agencies
Super markets
Textile industries.
Any business that have specific industry flavours and not a general ones.

Application Scalability as the business grows, you can add more users and add more functionalities. This helps Business owners to start at a small level with 3 users and later add as they are comfortable.
Auto backups, Disaster recovery and database management. We use Amazon Web services (AWS) and its one of the secure environment for our data, its management and scalability.
A single database and application instance.
Application is always up and running (98% uptime)
ERP Functionality: Why it is good for Business?
Actouch.com is a user-friendly and easy-to-use application with good charting and reporting structure.
You can set your own payments, receipt and stock Alerts
You can configure and decide which modules to use and where and when to use.
An easy-to-use workflow manager and you can configure it.
Easy to customise the application and develop reports.
User level manu access controls and permission to change or modify the contents.
Dashboards – for decision making process.
A tightly integrated Mobile Apps for Sales Person and Dealers (Customers). We have also built a dealer menu for him to login and do the transactions.
List of ERP Modules and Functions
ERP Functionality: Purchase module
Features:
Purchase Indents—We handle the Purchase Requisition or Purchase Indents and is managed by the Stores Employee. Indents can be raised by Stores, Production or anyone else.
Purchase order — Here you can manage Sellers / Vendors, Purchase Orders, Goods Receipts, Import Goods receipts with multi Currency features and other transactions.
Purchase Returns: In case the received material is not good then it can be returned back to supplier.

ERP Functionality: Sales Order Management
Features:
Sales Inquiry – A CRM module that can help to manage and track your prospects.
Sales Quotation – You can give a quote to a prospect and ensure that the versions are kept with price changes etc.
Sales order management—provides visibility and automation for the process of taking, tracking, fulfilling, and receiving payment for orders. You can raise an Invoice against the Sales order. This is an order acknowledgement for the Purchase order given by Customer.
Price List —manage the price list for a product group, customer and a product combinations.
Sales Returns management—Track items that are returned and can be added back to Stock or consider it as a scrap. This will help to reduce the customer outstanding money and at the same time add the stock back to Inventory.

ERP Functionality: Production Management
Finished Good costing Methods –
Following is the approach used by AcTouch.com to arrive at the Finished goods costing.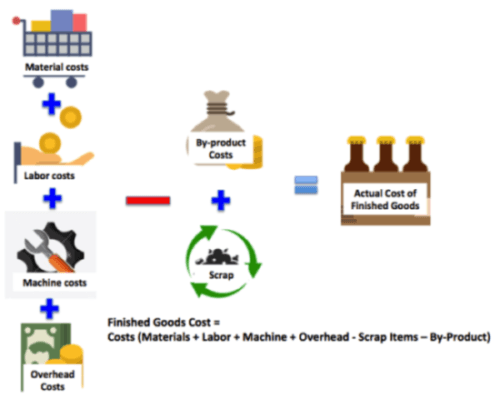 Features:
ABC- Activity based costing – AcTouch is very strong on costing and manage the FG cost with scrap etc. inventory costing is done on  Weighted Moving Average costing.
Bill of Material (BOM) and Configured product: You can define the product configuration and identify the raw materials required to manufacture Finished goods. You can track costing and ensure that by-products are tracked and controlled.
Work Order management—AcTouch.com's work order management capabilities can be configured according to each company's production process. You can also handle the Jobwork Work Order for which Raw Materials been received from Customers. Define Routings, Work Centre and define the capability.
MRP2 – Manufacturing Resource Planning —We have an integrated planning functionality that helps to coordinate materials, inventory etc.
Quality assurance—Define your quality test samples, set parameters to evaluate results etc
Manufacturing module contains the following features.

Inhouse production
Subcontracting – Give your materials to your subcontractor who will convert the RM to FG items
Jobwork – Customer specific orders are full filled and collect the money for the services.
ERP Functionality: Financial Management
AcTouch.com ERP's financial management is tightly coupled with other modules like Sales order management, Purchase, Inventory, Production etc. This helps everyone in the company to work from a single source of Finance, sales, and customer data. Financial Management Features:
Payment and Receipts – Manage the Supplier payment and receive Customer payments. Handle cheque returns cases. Generate Debit / Credit notes based on need.
Finance and Accounting—Accounting functionality and financial visibility are coupled seamlessly for accurate processing with Financial Budgeting, Cost centres and Balance sheets
ERP Functionality: Other modules
Features:
Warranty Module—Manage your post Sales Warranty and handle all the service items, what is given as FREE and what to charge customer etc.
Maker and Checker—Allows company to decide the roles and hierarchy for the payment and receipt approvals.
Amazon Seller Central interface – manage the stocks in real time with Seller Central and AcTouch.com
Fix your product demo at your convenience.


More information, click here
Call us at +91 90360 12094 or email us at 

sales@actouch.com

 for more details.