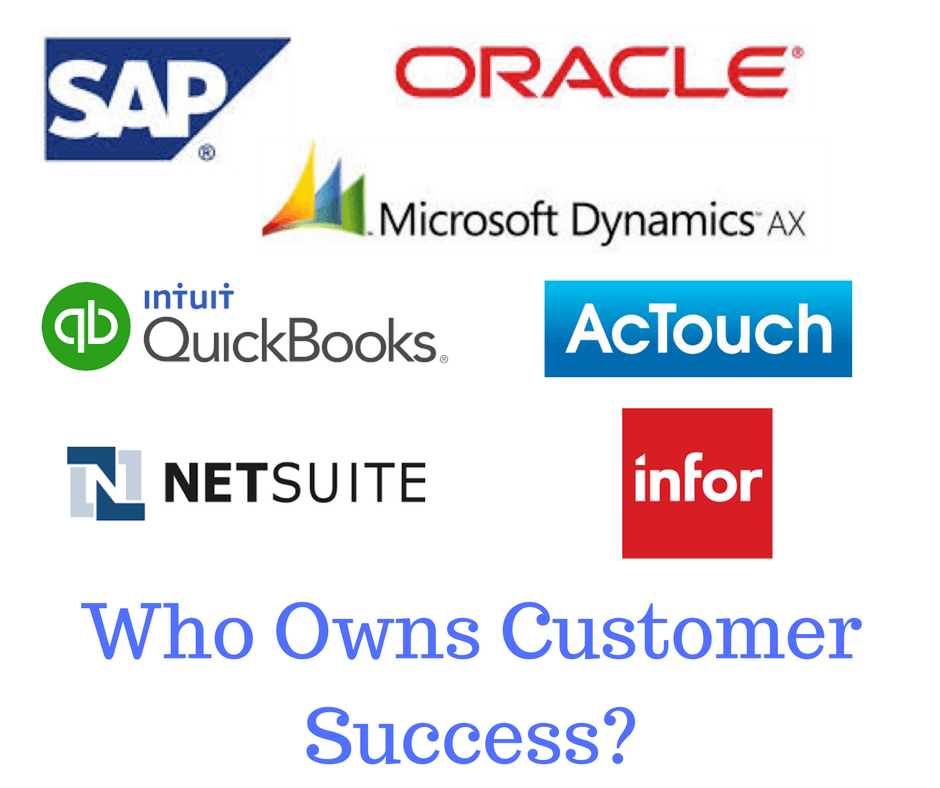 Who owns your Customer Success? It seems a simple question, right? But, it is a complicated question to answer.
Today ERP is the backbone of many business enterprises. These ERP solutions are connecting from Customer and Suppliers to their internal Production process and to Accounting solutions etc. Research has shown that many Businesses implement an ERP solution mainly for Customer Satisfaction and ensure that their customers are happy. This would lead to additional business, good references and happy employees etc.
But these same companies are facing problems as their ERP implementations are failed. This leads to loss of money, time and risk of reputation.
If you search Google, you will find many large MNC's ERP implementation is failed and they got into legal tussle with those ERP companies for years. We see that 100's of ERP implementation are failed and every time, we meet customers, we come to know many more such small cases. Today we hear frequently about large ERP vendor's failures of implementation across manufacturing companies in India. After spending so much money they decide to stop the implementation as they couldn't see the light at the end of tunnel. Because no one is worried about Customer Success.
Before going into these details, let's identify the cost of the implementation of an ERP in India.
On an average ERP implementation, it is found that a company would spend around Rs 20 lacs (USD 30,000) onwards and in many cases they have spent close to Rs 85 Lacs (USD 135,000)
The above fees is the combination of license fees + Consultants and Implementation fees + Customisation fees
Most of the time, customer assumes that Customization is FREE and it is done as part of Implementation cost.
Why these companies face these problems? What are Critical Reasons for the ERP Failures?
Many times, the senior management is not fully involved in the selection of an ERP and they depend on their employees or their consultants to help. When the issues crops up or when these trusted people leave the organization then the senior management realises that they have missed the bus.
We tried to give some reasons on why an ERP implementation fails.
Management issues – Many management teams expect to solve all their problems by implementing an ERP that's been used in their competitors. But they don't understand the amount work, testing, delegation to be done etc.
Overshooting of Budget issues
Clearly not identifying the stakeholders for the ERP implementation. So lack of Employee Focus and interest to change.
Too much customizations and don't want to adopt the best practices of ERP
Poor choice of Implementation partners
GAP in expectation and Communication between Implementation team and customers
Resource attrition in Implementation and Customer team.
In summary, in all these cases, one problem that I found interesting and not addressed is "Who owns Customer Success?" We did an analysis on this based on customer feedbacks and it's interesting.
Large ERP Vendors like SAP, Oracle etc. are happy to sell the licenses and their work is over. They will show interest only when there are huge user license revenue opportunities. Else you are at the mercy of local partner who sold the license to you.
Implementation partner – Lack of good resources and many times, they don't have the clue on how the ERP works and what is customer business model. But they are "ERP consultants". When the application doesn't work, they can blame on ERP Company and suggest going for "Customization". This is another revenue stream for them. Frequently we have seen the case where the expert consultant is taken to other project and the current one suffers.
Company and Employees – Many times the employees, who are an influencer in the decision making process doesn't want to suggest something new that would jeopardise their employment and career. They always suggest SAP, Oracle etc and they can blame on the Implementation consultants, in case of a failure, as "our so and so competitor is using SAP and it works for them. Seems our consultants are not good".
No one owns this failures and all blame game begins. Now, who owns customer success here?