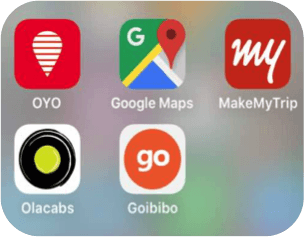 Many CEO's at World Economic Forum 2016 came with words like "Digital Transformation", "Digital Disruption of Industries" etc.
One such article is here. "Digital Disruption has only just begun" – Pierre Nanterme, CEO Accenture.
Most of us, thought that Online Travel bookings or Mobile payments or having a YouTube on Mobile etc as Digital disruptions. Chances that many of us didn't know the actual meaning of this at ground level is very low.
In today's world, Digital disruption is huge and common man takes full advantage of them. It is difficult to measure these effects by sitting in A/C Room with some investors or some so called "thought leaders" etc.
To see the same, you should go to street. Meet Business people, Taxi or Auto drivers, New Millennial's etc. and they will tell you how to use them to maximise the benefits, where to find discounts etc.
For the last 4 months, I am on street and meeting Prospects and Customers across Northern India to sell our Cloud ERP Solutions. During these days, what I found interesting is the way the digital disruptions have taken place at ground level and it's been exploited by every sector of business, students and Common man.
I have tried to explain few of them and I am sure you can add many more.
"Sir, WhatsApp me the details"
This is the common statement that we received whenever we were asked by a prospect to send a quote. Customer is comfortable to open the Quote over the Smartphone and discuss the details. Many things have changed starting with documents sharing and receiving now.
For Business owner, the new definition of sending a document is ("Email + Send") = "WhatsApp". This is similar to what people normally used to call photocopy as "Xerox".
One of the sector that exploited WhatsApp features is the Business Owners and they share the quotes, Price lists, invoices, design documents etc. on WhatsApp.
Now WhatsApp is the defacto for
Sending and receiving the documents.
Inter and Intra country calls. Especially it is too good when roaming charges are applied. Personally I found WhatsApp voice quality is much better than the telecom operators.
It has replaced SMS and eMail for Businessman.
"Book a Ola or Uber"
This is an interesting phenomenon. Now "Taxi" word has been replaced by either OLA or UBER. It says you book a taxi and that too either OLA or UBER. This one statement says all and avoids all the remaining questions like
"Which taxi service is good and cheap?"
"Is the driver good and trust worthy?"
"Will the taxi come on time so that I don't miss my bus?"
The standard of services and professional behaviour is also guaranteed with these taxi services. I personally found many OLA and UBER drivers are good, dependable and accommodate your multiple request of stopping to buy a sandwich etc.
Many of my friends, who relocated to India, didn't buy the car, but started using OLA or UBER, as its cheap, convenient and available all the time.
"Sir, why you are worried about stay? Book a OYO Room".
OYO, GOIBIBO saved my sales team and me a lot of money by ensuring to get decent hotels and that too at 30% discounts. No more haggling or looking where to go and stay.
OYO and GOIBIBO have ensured that hotels are available at a decent location with minimum guaranteed services and cleanliness. They redefined the hotel experience nearly to 3 Star hotels, which was missing earlier.
Today, we don't know the hotel names and locations, but we look for OYO or GOIBIBO logos to enter the hotels and stay. Because I know that, I have a team (OYO or GOIBIBO) who can help me to solve the problems, if hotel is not good.
"Sir, future is Cloud and its good"
I was surprised to hear this from our Customers and Business owners.
After NOTE BAN happened in India in Nov 2016, many business owners suddenly woke-up to the reality of keeping proper records, ensure that bank statements are updated with evidences etc. This brought up the need to follow and have some discipline in the business process and documents.
Now GST is the new thing and many have started asking for the Solutions that could be managed over cloud and made sure to access on Mobile.
Technology improvement has helped and increased customer expectations and this goes to Cloud Solutions now.
"Sir, Check us at Google Maps and it will direct us perfectly"
I cannot complete this without mentioning Google Maps and its GPS features.
It helped me during my travel across states and cities. It helped us to find remote hotels, customer and business centers.
What I found interesting is, OLA and Uber Drivers use this for all the travel and they ask customer "which route you want to take". Because they know that with Google, they cant miss a single road.
What a transformations at lower level.
Now my mobile have a separate section that has all the tools that I need when I travel.