Cost Control and Cost Reduction
  Cost Control is the practice of identifying and reducing business expenses to increase profits. Recently we were doing our Cloud based ERP product (www.actouch.com) demo at a prospect's place at Bangalore. He is an established company of 30+ years and has reputed clientele. As part of the product demo, we took actual product data, purchase price with bill of materials (BOM). We completed the  "Finished Goods production reporting" and our prospect had the biggest worry of the day and he was struggling to understand what happened.  
Because the cost of his production was nearly 1.75 times more than his selling price. The cost sheet they were referring was nearly 3 years old.
Ways to reduce Small Business Costs – Cost Control.
Today, if we ask any SME customer randomly on what is the actual cost of the material he purchases or cost of the product that he manufactures, there is 80% chance that he would give an old price and he might not be knowing the real cost.
This is a common scenario is most of the production units unless they monitor every cost and expenses closely.
"Most of the business owners are not able to identify the exact cost of Finished goods or their purchased materials. Because the age old software that they use doesn't have the capability to handle these requirements."
Cost Control and Cost Reduction in Business.
Below we are presenting a scenario of how the Finished goods costs can be deduced based on multiple factors.
Finished Goods Cost breakups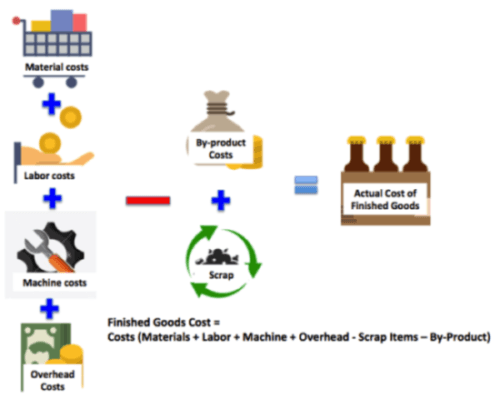 Cloud ERP Helps Reduce Cost.
Cloud ERP is important for business. Here are some of the lists how Cloud ERP helps reduce Costs.
Labour and Development Cost.
Maintaining and Support Cost.
Requirement Analysis Effort
Backup Management Cost
Software Testing Cost
Overall Project Cost.
In AcTouch.com, we use weighted moving average costing method that averages out the Purchase cost and finished goods reporting, so that there is no conflict on the costing. These details are tightly integrated with Financial reporting. Small Business ERP – AcTouch Cloud ERP Solutions.  
Fix your product demo at your convenience.

More information, click here
Call us at +91 90360 12094 or email us at 

sales@actouch.com

 for more details.