What is ERP Software?
What is ERP Software?
ERP stands for "Enterprise Resource Planning". This means, this is a software system that is supposed to address and take care of the entire needs of an Enterprise and it's resource needs etc. An ERP Software consists of both Software and Hardware that is essential in addressing the entire business needs. Typically an Enterprise means, we are talking about from a medium to Large Manufacturing units or a small trading business or a large Trading business.
Interesting is, irrespective of the size of the business, they have same basic process and controls to follow. ERP is essential a tool for the small to large business and it is necessary for all.
During our sales process, we found an interesting fact that every business irrespective of the size has same business process, control and measures. It does change with volume of work, but not from business process wise.
An ERP Software typically consists of Manufacturing, Accounting, Sales and Invoices, Purchase and Bills, Planning, Human Resources, Taxes and compliances etc. There are business vertical wise specific ERPs too. But they are expensive and are not generic ones.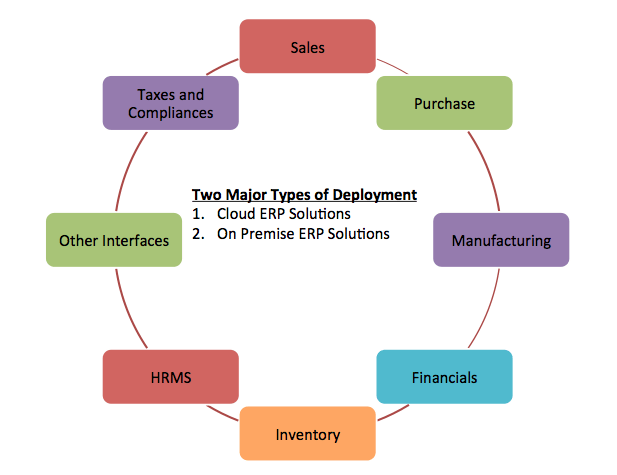 What is ERP Software? – What's the Business Value of an ERP Software?
Many business have relations with customers and suppliers across the world like USA, China, Vietnam, Singapore etc. The business is happening between multiple business currencies, terms and conditions. As the work complexity increases, it is difficult to manage these records manually.
Today, the business operations are interconnected and complex. It contains many business moving items and it is essential to manage the Enterprise wide resources needs. It is important from business perspective to have a data integrity and accuracy from an "single source of truth" concept. This avoids the confusion and brings more clarity and confidence on the data.
ERP Software brings many business value of multiple stakeholders in a company. Some of them have been mentioned here.
Data consistency and data Accuracy. Collecting an organisation's transactional data that's shared across from multiple departments
Remove data duplication and make it simple. Every units of the business will see the same data at any point of time.
Follow the Business process and workflows. This makes people to follow the process else they can't continue the work at all.
Business compliance with approval systems
Improves Tax and Statutory compliance process including Traceability
Lower operational cost and increased accountability. Data preparation and report generation are so fast, it save huge amount of TIME and MONEY for business.
Improves Employees productivity
Reduced Risks and increased transparency
No more "Knowledge Pockets" and its moved into process based systems.
What is ERP Software?- Evolution from MRP to Cloud ERP Solutions
Moving from MRP to MRP II and now to ERP
Initial days, businesses were using bare minimum application / Software that helped them to manage their Materials planning and procurement. This software system was called MRP. However as the business needs increased and manufacturing units wanted to manage more process, Work orders, Materials planning etc and a new application born and it is called as "MRP II" (Manufacturing Resource planning). A new department was born with this – PPC (Production Planning and Control Department)
Later, many Software solutions begin adding new features like Finance, Human Resources etc and the Business needs changed to manage the Enterprise Wide needs.
Moving from On-Premise ERP to cloud ERP Solutions, why you should do it now?
On Premise applications – On premise application means an ERP System that's deployed in the company location and on its own servers. This helps them to manage the Data and its security. Many customers believe that it is Safe to keep the data and information near to them and controlled by them. So they buy large servers, buy software & databases and setup the network for people to access the application. They spend huge money on infrastructure. To run and maintain this ERP system, they recruit people and pay them huge salary. In summary the cost of the total work and maintenance is heavy.
Cloud ERP Software – An ERP system that is deployed on a Cloud server and is made available to customer based on the demand. In this model, Small businesses don't need to maintain a server, keep worried about data backup etc.
In summary, cloud ERP Software always helps business to start with less money and spend as and when its required.
Small Business should go with Cloud ERP Software and focus on growing the business now
Why is ERP Software? – Future of ERP trends – Extended ERP systems
As business demand increases, today's install based ERP could not able to meet business needs and it lead to more expenses to maintain and customise. These old software couldn't manage the Sales Force Automations, Online interface to their web portal etc. A New / Second generation business owners needed new features like
Integration of eCommerce portals with ERP to process the bills in online mode.
Business owner wants his vendors and customers to connect to his ERP system. This would help Customers and Vendors to see their bills and invoices etc at one place.
Connect to Mobile Apps, so that Sales person takes orders in real time. Sales person life would be made easy and simple. Now he can submit his Daily Sales Reports and Expenses report in online mode.
He wants to share his ERP with his Accountants and Auditors so that they are all updated real time with details.
Cloud ERP Solutions are next stage of evolution. It is better to adopt it and get ready for the future. The new generation ERPs are moving towards an extended mode where we are integrating the Customer business with their Suppliers and their Clients.  Sales people are connected by MobileApps and Portals.
What is ERP Software? – How next generation ERP works?
Improved the Productivity – As the resource usage improves the productivity of the application and efficiency of the process improves. This leads to a better utilisation of resources and ensure that wastage are reduced. Improve in the process and controls helps to reduce unnecessary frictions and problems.
Improve the confidentiality on the Data and its integrity – An interesting fact that emerges soon after using the ERP is the removal of "Fear Of Unknown" as the data integrity and confidence increases.
Simplify the workflow process – Simplify the process with a clearly defined owners and the expected outputs.
Quick and Quality Reporting – ERP helps to integrate the data across multiple departments and it helps to generate the report at a higher frequency and at a much better quality level.
Better insights into process and controls
Are you ready for using a Cloud ERP Software?
Implementing an ERP is not a small task. It requires preparedness and huge effort to make it happen. Many times, we found that senior management wants everything, but they are not pushing or fixing themselves to the date to make it happen. This leads to confusion and wastage of resources, money and time.
Not getting the right data on right time to make a decision. You have people to help you, but they are all running around and compile and manage the same data to give.
At present, you are following Manual process with multiple data sets. This is a classic case, where multiple department owners keep the same data in different formats and in the way they need. When you want a consolidated data then you don't get it.
You are missing customer delivery dates – One of the major -ve fact is, you would be missing the customer delivery dates and that leads to more issues and can't even plan the deliveries.
You are missing new Business Opportunities. A classic case of a bank was missing new business as their Core system was not managing Multi Currency features.  Due to lack of features like Dealer management Apps (DMS, or Sales force Apps (SFA), many simple work became duplicate and there is no control on the work to do and what is completed etc.
At the end of the day, you always feel that there is something is missing and what to do?
Install an ERP Software for your business now.
The new business model has become more mobile, Agile and it's getting fragmented. Business collaboration is the new key to survive for everyone.
So it is important to bring in your customers / Distributors, your Suppliers into your business network. This will build confidence, transparency and increases business for all. For this reason, we built Manufacturing ERP, Dealer Management and SFA tools.
Do you know, how implementing a Cloud ERP Solution can save money for you? Check the article here
Take a FREE product demo at your convenience now.

More information, click here
Call us at +91 080 2662 9236 or email us at 

sales@actouch.com

 for more details.